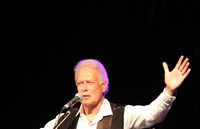 ---
There are always challenges in Keith Potger's solo performing, song writing and music production life.
Creating a path as a wandering minstrel has been one of those challenges. Who knows what this man can deliver? He's standing there with a guitar or ukulele or banjo as one who enjoys bringing sunshine into the lives of his audience.
After each finale the audience certainly knows.
Journeys still abound and the energy that resided in every creative nerve has not subsided.
So much yet to experience.
So much more to share.
© 2020 COPYRIGHT KEITH POTGER