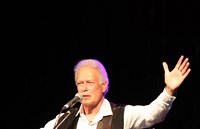 ---
There are always challenges in Keith Potger's solo performing, song writing and music production life.
Creating a path as a wandering minstrel after decades of being a founding member of The Seekers has been one of those challenges. He's standing there with a guitar or ukulele or banjo as one who enjoys bringing sunshine into the lives of his audience. Who knows what this man can deliver?
After each finale the audience certainly knows and appreciates why he loves entertaining.
Journeys still abound and beckon. The energy that resides in his every creative nerve does not subside.
So much yet to experience.
So much more to share as the wandering continues.
Come along and share the journey
BREAKING NEWS
I will be performing a solo spot at the Oriana Room, Lonestar Tavern, Mermaid Waters QLD on Sunday 19th November.
This is the 17th annual charity event to raise funds for local injured and orphaned wildlife.
It'll run from 10.00AM to 5.00PM and there'll be plenty for the family to enjoy.
Also appearing will be Tyson Colman
Come along and show your support for this worthy cause. Every dollar counts!
Re NEW ZEALAND, My promoter and I decided that the NZ election was dragging too much oxygen out of the population,
so we have postponed a tour there until things settle down.
Watch this space...
© 2020 COPYRIGHT KEITH POTGER