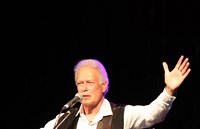 ---
There are always challenges in Keith Potger's solo performing, song writing and music production life.
Creating a path as a wandering minstrel after decades of being a founding member of The Seekers has been one of those challenges. He's standing there with a guitar or ukulele or banjo as one who enjoys bringing sunshine into the lives of his audience. Who knows what this man can deliver?
After each finale the audience certainly knows and appreciates why he loves entertaining.
Journeys still abound and beckon. The energy that resides in his every creative nerve does not subside.
So much yet to experience.
So much more to share as the wandering continues.
Come along and share the journey
BREAKING NEWS
Some upcoming gigs in September (South Australia), October (Tasmania) and November (New Zealand)
- click the links for ticketing options -
SOUTH AUSTRALIA
24th September 2.00PM Hats Auburn Courthouse, 4 St Vincent Street Auburn SA 5451
https://www.clarevalley.com.au/whats-on/keith-potgers-celebrating-the-seekers-concert
27th September 11.00AM Club 5082@Payinthi (Prospect Town Hall), 128 Prospect Road Prospect SA 5082
https://www.prospect.sa.gov.au/explore/events/events/celebrating-the-seekers-60th-anniversary
28th September 7.00PM Cooee Arthouse, 15A Old Coach Road Aldinga SA 5173
https://events.humanitix.com/keith-potger-celebrating-the-seekers
TASMANIA
17th October 2.00PM Brighton Civic Centre, 25 Greenpoint Road Bridgewater Tas 7030
https://www.trybooking.com/events/landing/1083369
18th October 2.00PM Sorell Memorial Hall, 47 Cole Street Sorell Tas 7172
https://www.trybooking.com/events/landing/1083371
19th October 2.00PM Lindisfarne CWA Hall, 29 Lincoln Street Lindisfarne Tas 7015
https://www.trybooking.com/events/landing/1083372
20th October 2.00PM 2.30PM Brookfield Shed, 1640 Channel Highway Margate Tas 7054
https://www.trybooking.com/events/landing/1083373
21st October 3.00PM (Free event) The Unconformity Festival, Crib Road, Queenstown Tas 7467
https://2023.theunconformity.com.au/events/crib-road/
28th October Two shows: 2.30PM & 7.30PM The Studio Theatre, Hedberg Centre, Campbell Street Hobart Tas 7000
https://www.theatreroyal.com.au/what-s-on?field_show_categories_target_id=All&field_location_target_id=All&page=1
29th October 2.00PM Buckland Church, 1 Duke Street Buckland Tas 7190
https://events.humanitix.com/celebrating-the-seekers-up-close-and-personal-with-keith-potger/tickets
NEW ZEALAND
Tour starts 2nd November in Christchurch and ends 19th November in Auckland.
All dates will be posted once the schedule has been finalised.
Watch this space...
© 2020 COPYRIGHT KEITH POTGER